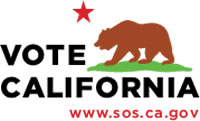 Thank you for your interest in being a California voter!
As a voter, you will help decide who will lead us. You make your voice heard on important issues that affect the future of our state and nation. Every time you use your precious right to vote, our democracy grows stronger.
It's easy to take part in elections when you have the tools and information! Whether it's your first time voting or you are an experienced voter who has moved and just need to re-register to vote, Voting in California will give you everything you need to get started.
Here, you can apply to register to vote, find your polling place and learn what to expect on Election Day. You can also brush up on your rights and responsibilities as a voter, find answers to your questions about elections and voting, and get informed about the issues on the next statewide election ballot.
If you would like to vote at your local polling place select "Where and How to Vote", that page will tell you what to bring when you vote for the first time in a federal election.
The Secretary of State offers voter information and assistance in English and nine more languages. Select Spanish, Chinese, Hindi, Japanese, Khmer, Korean, Tagalog, Thai or Vietnamese or choose a language on the left side of this page.
For voter assistance in your language, call one of the toll-free Voter Hotlines.
Voter Education and Outreach
Want to spread the word about voting? Visit Voter Education and Outreach to find out how you can join Secretary Weber and a wide range of employers, nonprofit organizations and educators around the state who are working to improve voter participation in California.