Inspire young people to vote and be involved.
Promote civic education & voter participation in high schools.
Dedicate your vote in honor of a military service member.
Earn money while you serve your community.
Voting information for California voters living out of state.
View our informative publications and resources.
View our informative election related videos.
Add these buttons to your website: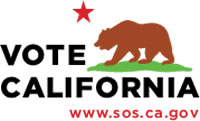 Visit our help page to find out how!
Contact:
Voter Education and Outreach
Elections Division
Secretary of State's office
1500 11th Street, 5th Floor
Sacramento, CA 95814
(916) 651-3070